Blackberry Balsamic Chicken Salad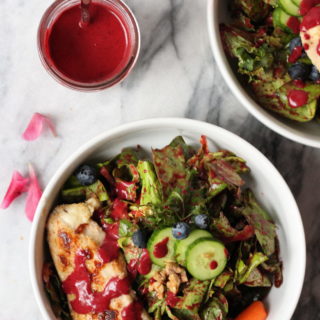 Author:
Andrea @ French Pressed Kitchen
Recipe type:
Lunch, Dinner
Serves:
4 small or 2 big servings
4-6 cups mixed greens
1 small cucumber, diced
1 small handful blueberries or blackberries
Nuts (optional)
Fresh mint, roughly torn
¼ cup extra virgin olive oil
¼ cup balsamic vinegar
½ cup blackberries (defrosted if frozen)
Dash of salt
Dash of fresh ground pepper
4-5 thin chicken breasts or chicken tenders
¼ cup coconut flour
Salt to taste
Fresh ground pepper to taste
Coconut oil, or other neutral oil for cooking
Roughly chop the greens into bite size pieces and add to a large salad bowl with mint and cucumber.
Combine all the dressing ingredients and puree until smooth in a blender or Ninja. Set aside.
Heat a pan to medium heat for pan frying the chicken. When pan is warm, add a bit of coconut oil (I didn't need much because I used a non-stick).
Combine the coconut flour, salt and pepper in a shallow bowl or dish and stir to combine a bit. Dip the chicken into the mixture, then place in the pan to cook. Sear on each side about 5 minutes (depending on thickness of chicken) or until temperature reaches about 165 degrees F.
Toss the greens with the dressing, then top with the berries and nuts if using and more dressing.
Extra dressing will keep in the fridge for a few days in a sealed container (I used a jar). It was also great with fish!
Recipe by
French Pressed Kitchen
at https://frenchpressedkitchen.com/blackberry-balsamic-chicken-salad/