Chocolate Chip Cookie Oat Bran Porridge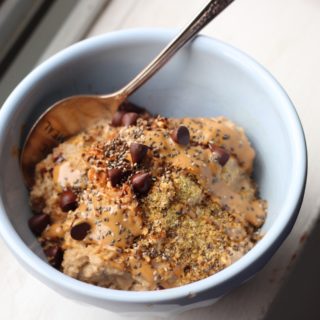 Author:
Andrea @ French Pressed Kitchen
⅓ cup oat bran
¾ cup milk (I used almond)
1 teaspoon cinnamon
1 teaspoon coconut oil
1 Tablespoon nut butter
1 Tablespoon ground flaxseed
1 teaspoon coconut sugar (optional)
1 Tablespoon chocolate chips (I probably used more!)
More chocolate chips, chia seeds, flax seeds, hemp, etc!
Mix the oat bran and milk in a small pot. Bring to a light boil on medium heat. This only took about 3-4 minutes for me, a bit faster than normal rolled oats.
Once mixture starts to look creamy, add in the cinnamon, coconut oil, nut butter, ground flaxseed and coconut sugar (if using). Stir until well combined. If the mixture looks too thick, add a bit more milk to thin it out.
Stir in a few chocolate chips at the very end just before serving, or save them all as a topping! I like them melted in a bit.
Add the rest of the toppings and enjoy!
Recipe by
French Pressed Kitchen
at https://frenchpressedkitchen.com/chocolate-chip-cookie-oat-bran-porridge/