Almond Butter, Avocado + Egg Breakfast Sandwich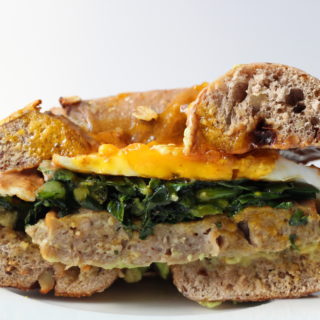 1 bagel or two slices toast
1 handful of kale (baby or regular)
1 sausage patty (optional if you want to do vegetarian)
1 egg
1 Tablespoon almond butter
2 Tablespoons avocado
Sea salt
Cut the bagel in half and toast both sides. I like mine crunchy!
Wait until it cools slightly, then spread one half with almond butter and the other with avocado. Sprinkle the avocado side with sea salt.
Microwave the kale for about a minute with some water to steam it slightly. Let cool and drain if needed. If using frozen sausage, microwave that as well until thoroughly warmed (I did my kale and sausage together). If using fresh sausage, pan fry it in until thoroughly cooked.
In the same pan, fry an egg until it reaches the consistency you like.
Layer the sausage if using, kale and egg on top. of the sandwich base. You can also skip the sausage and egg and just just double down on kale, almond butter and avocado for a vegan option!
Smoosh and enjoy!
You could make this with two pieces of your favorite bread or even try an open faced sandwich!
Recipe by
French Pressed Kitchen
at https://frenchpressedkitchen.com/almond-butter-avocado-egg-breakfast-sandwich/