Creamy Paleo Mushroom + Bacon Gnocchi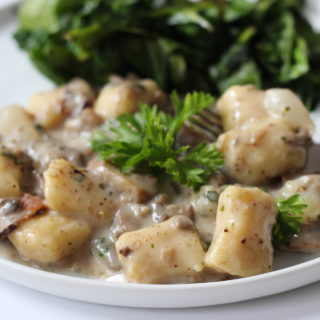 Author:
Andrea @ French Pressed Kitchen
2 slices bacon, diced
1 cup pearl frozen pearl onions or 1 cup diced onion
2 cloves of garlic, diced
12 ounces sliced mushrooms
¾ teaspoon salt
½ teaspoon fresh ground black pepper
2 Tablespoons arrowroot flour
¾ can full fat coconut milk
Parsley, for garnishing
1 box Cappello's paleo gnocchi, or other pasta (about 12 ounces)
Cook the bacon until slightly crispy, then transfer to a plate using a slotted spoon or fork.
Leave a bit of the bacon grease in your pan to cook the onions and garlic. Add both and cook until onions are soft and garlic is fragrant.
Add the mushrooms and cook until soft. I used frozen onions and mushrooms so once they defrosted in the pan, this didn't take long. Add the salt and pepper.
In a separate bowl, create the slurry - combine the arrowroot flour and a splash of the coconut milk, whisking until smooth.
Add the slurry to the onion and mushroom mix, then add the remaining coconut milk. Making the slurry first will ensure that the liquid isn't lumpy when you add it.
Let the liquid come to a gentle simmer, then cook for a few minutes on low, stirring occasionally. The sauce should thicken nicely at this point. If it looks too thick, add a splash more of the milk. Add in the bacon at the end.
Meanwhile, boil water for your pasta. Cook your pasta according the package, taking off a minute or two of cook time since they will cook more in the pan. I boiled my gnocchi for about 2 minutes.
Transfer pasta to the big sauce pan and stir in. Revel in the beauty of your cream sauce.
Garnish with parsley and enjoy!
Notes: I recommend serving this with greens on the side (spinach or broccoli would be great!) and a runny egg if you need extra protein.
Recipe by
French Pressed Kitchen
at https://frenchpressedkitchen.com/creamy-paleo-mushroom-bacon-gnocchi/