Dreamy Cashew Butter Cookies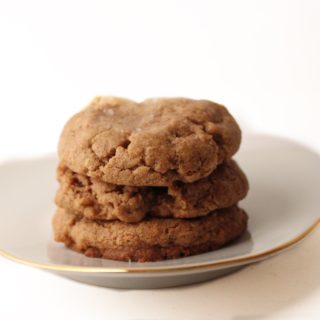 Author:
Andrea @ French Pressed Kitchen
240g cashew butter (almond/peanut butter also work)
4 Tbsp. coconut sugar (or regular)
3 Tbsp. maple syrup
2 Tbsp. ground flaxseed
½ tsp. baking soda
½ tsp. baking powder
1 tsp. vanilla extract, or pinch of vanilla bean
Pinch of cinnamon
Coarse sea salt
Place all the ingredients in a bowl and stir until combined. Refrigerate for about 30 minutes.
Preheat oven to 400F. Form dough into balls, then press down slightly to flatten on baking sheet.
Sprinkle with sea salt and bake 7-8 minutes. A few minutes longer will result in a crispier cookie.
Allow to cool for 5 minutes on the baking sheet, then transfer to a wire rack to cool completely. I don't usually get that far. Store in an airtight container for up to 5 days!
Recipe by
French Pressed Kitchen
at https://frenchpressedkitchen.com/dreamy-cashew-butter-cookies/