Roasted Tomato and Power Greens Polenta Bowl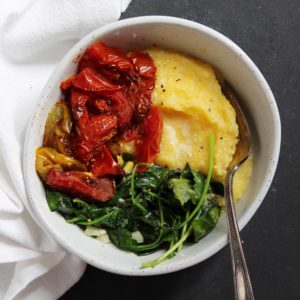 ½ cup dry cornmeal
1 and ½ cups water
Pinch of salt
2-3 pounds tomatoes (I used heirloom)
1 Tablespoon avocado oil
Fresh ground black pepper
3-4 cups mixed baby kale, and baby spinach
1 teaspoon avocado oil
2 cloves garlic
Heat the oven to 425F (220C). Line a baking sheet with parchment paper or foil.
Dice the tomatoes into 1 inch or so cubes (or cut in half if using smaller cherry tomatoes). Add the baking sheet, then drizzle with 1 Tablespoon oil and black pepper. Roast for 30-40 minutes, or until the tomatoes are shriveled and start to dry out. Remove and let cool, then sprinkle with salt.
Bring the water to a boil in a small pot with the pinch of salt. Add in the cornmeal, then cook for about 5 minutes until mixture becomes creamy. Stir consistently so it doesn't stick to the pan. Set a side and let cool slightly.
Heat a small pan over medium heat and add 1 teaspoon avocado oil and the garlic. Sautee the garlic until fragrant, then add in the greens and cook until wilted.
Finally, bring the bowl together! Put the polenta on the bottom, then top with the wilted greens and a scoop of the roasted tomatoes. Add a pat of Earth Balance on top for an extra creamy touch.
Recipe by
French Pressed Kitchen
at https://frenchpressedkitchen.com/roasted-tomato-and-power-greens-polenta-bowl/