Easy Peach Goat Cheese Sweet Corn and Arugula Salad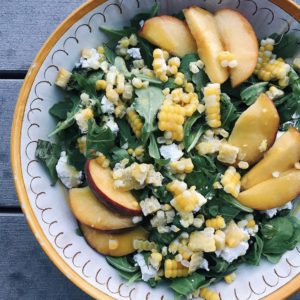 Serves:
3-4 small servings, or 2-3 large
10 ounces arugula (or other salad greens)
4-5 ounces (120g or so) goat cheese, crumbled
1 peach, sliced
1 ear sweet corn, peeled
3 Tablespoons (25g) toasted and chopped nuts, optional
¼ cup white balsamic vinegar
½ cup extra virgin olive oil
1 teaspoon mustard
1-2 teaspoons honey
¼ teaspoon salt
Bring a pot of water to a boil. Add the corn and boil until soft, about 8-10 minutes. Let cool, then carefully slice off the kernels.
Mix the dressing ingredients in a small bowl or jar. If using a jar, shake to combine thoroughly. If using a bowl, mix thoroughly until the mustard binds everything together.
Add the salad greens, goat cheese, corn peach and nuts into a large mixing bowl. Serve as is, with dressing on the side, or drizzle the dressing on top and toss to combine.
Recipe by
French Pressed Kitchen
at https://frenchpressedkitchen.com/easy-arugula-peach-goat-cheese-sweet-corn-salad/