Roasted Tomato, Parmesan and Garlic Pie with a Paleo Crust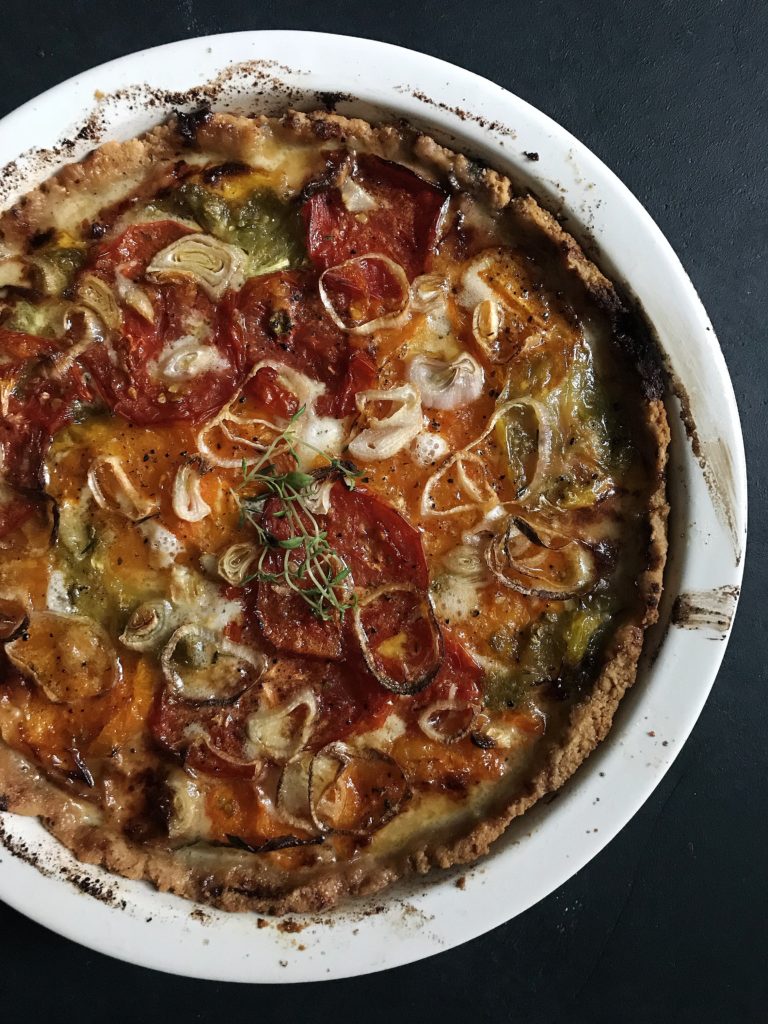 Your favorite quiche or pie crust OR for a paleo version:
1 cup almond flour
2 Tablespoons coconut flour
⅔ cup tapioca flour
6 Tablespoons Earth Balance (or butter), cut into small cubes
½ tsp fine grain sea salt
1 large egg, beaten
½ teaspoon garlic powder*
2.5 pounds of good heirloom tomatoes, cored and sliced ¼ inch thick
3 Tablespoons olive oil
½ teaspoon salt
¼ teaspoon fresh ground black pepper
1-2 teaspoons garlic powder*
12 ounces grated cheese (a combination of Parmesan and/or Taleggio)
½ cup mayonnaise
1-2 Tablespoons Earth Balance or butter
1 Tablespoon chopped fresh thyme
1 small shallot, sliced thinly
Heat the oven to 475F. Arrange tomatoes on a baking sheet, covering the entire surface (they can overlap). Drizzle with olive oil, then sprinkle on salt and pepper. Roast tomatoes for about 25-30 minutes or until they just become dry and wrinkly up top. Reduce oven temperature to 375F.
Meanwhile, make the crust. Combine the dry ingredients in a bowl, then work in the Earth Balance (or butter if using). When it starts to look like well combined (a bit like sand), add in the egg and stir to combine. It should form a sticky dough. Press into an 8 or 9 inch pie crust until evenly distributed. It doesn't have to be perfect, but you can roll out the dough if you want it to be more even. If the dough is too sticky to roll, refrigerate it for about 30 minutes first.
Bake the crust for 7 minutes until just slightly browned. Remove and let cool.
In a large bowl, mix the grated cheese, mayonnaise, chopped thyme, ½ teaspoon salt, ¼ teaspoon pepper, and garlic powder (*see note).
Next, layer the pie dish with the cheese mixture and tomatoes. First, add about half of the cheese mixture and spread evenly into a layer to cover the crust. Be gentle, as not to break the crust. Layer half of the tomatoes over the cheese mix; repeat both layers. Melt the remaining 2 Tablespoons of Earth balance, mix with a dash more of garlic powder* and then drizzle over the tomatoes. Top with the sliced shallot and a few more thyme leaves. The filling may look a bit dry at this point, but fear not. The cheese will melt nicely and distribute throughout the pie.
Bake pie until filling bubbles vigorously and crust is browned, 50-60 minutes. Mine took about 45 minutes, but yours may take longer depending on how finely the cheese is shredded and the consistency of the mayo. It really will bubble quite a bit when ready, even if it doesn't look like it! Let cool 1 hour before serving.
The pie will keep well in the fridge for several days, if it lasts that long!
*Note: I was out of fresh garlic so I did not follow the Bon Appetit version of creating garlic butter with fresh garlic. I highly recommend this, however, as I think the cooked garlic flavor would give more depth and complement the tomatoes and cheese even better than garlic powder.
Recipe by
French Pressed Kitchen
at https://frenchpressedkitchen.com/roasted-tomato-parmesan-and-garlic-pie-with-a-paleo-crust/