Paleo Smoked Fish and Spinach Quiche with Lemon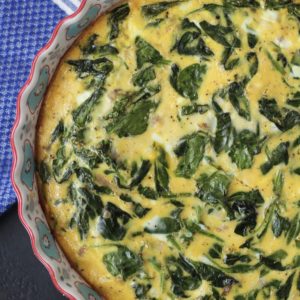 Author:
Andrea @ French Pressed Kitchen
2 Tablespoons tapioca flour
1 cup almond flour
¼ teaspoon salt
3-4 Tablespoons coconut oil or butter, or a mix
1-2 Tablespoons cold water, if needed
8 eggs
½ cup full fat coconut milk
¼ cup diced smoked fish
3-4 cups spinach, sauteed until wilted
1 lemon, zested
Salt, to taste
Pepper, to taste
Heat oven to 350F (175C) and grease the bottom of a pie dish with a little coconut oil.
Mix the dry crust ingredients together in a medium bowl. Add in the coconut oil and/or butter with a fork and mix until crumbly and the dough starts to come together. If the mixture is too dry, add 1 Tablespoon of water at a time and mix until a soft dough forms (you may need more - I used about 2.5 Tablespoons). Once the dough forms a soft ball (you don't want it too wet), it's ready to go!
Press the dough until flat in the pie dish until even.
Bake for 5-7 minutes until barely set.
While the crust cooks, in a large bowl beat the eggs with coconut milk until smooth. Carefully stir in the fish, spinach and lemon zest. Finally, add in salt and pepper to taste.
Add the liquid egg mixture into the slightly cooled crust.
Bake 30- 35 minutes or until set to desired firmness (if you leave it in longer the eggs will have more structure; less time and it will be a little softer like traditional quiche).
You can make this quiche crustless as well! Just grease the pie dish and add the egg mixture directly in.
Recipe by
French Pressed Kitchen
at https://frenchpressedkitchen.com/paleo-smoked-fish-and-spinach-quiche-with-lemon/