Crunchy Kale Salad with Maple Tahini Dressing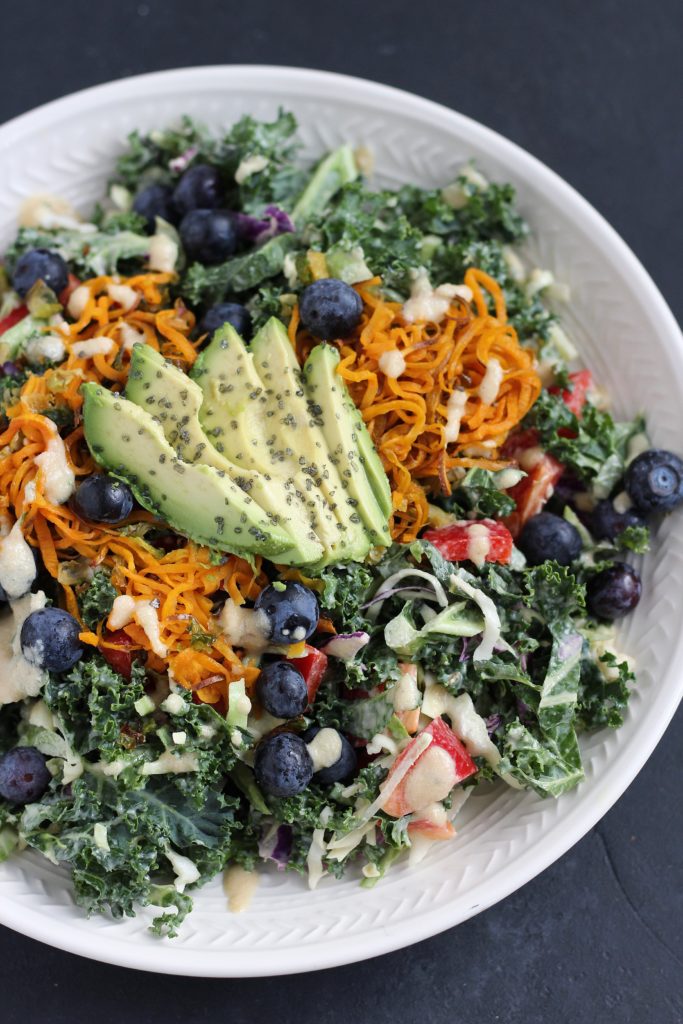 Author:
Andrea @ French Pressed Kitchen
Serves:
2 -3 large or 3-4 smaller servings
¼ cup tahini
2 Tablespoons fresh lemon juice
1 Tablespoon apple cider vinegar
1 Tablespoon extra virgin olive oil
2 Tablespoons water
1 teaspoon Dijon mustard
Dash of garlic powder
1.5 teaspoons maple syrup
Salt, to taste
Mixed greens, preferably hearty (I used a shredded brussels sprouts, kale and cabbage mix from Trader Joe's)
½ of a red bell pepper, diced
2 cups roasted mixed vegetables (sweet potato, brussels sprouts, carrots, parsnips)
Avocado, sliced
Blueberries (strawberries, raspberries or grapes would be great too!)
Mix salad dressing ingredients together in a jar or small bowl. Set aside.
Shred or very finely chop up the salad ingredients if not already done (you can also use regular salad greens but will probably need less dressing). Massage the greens with a few tablespoons of dressing, adding more if necessary. Top with roasted vegetables, fruit and sliced avocado. Drizzle on more dressing. EAT!!
Recipe by
French Pressed Kitchen
at https://frenchpressedkitchen.com/crunchy-kale-salad-with-maple-tahini-dressing/