Cheddar, Jalapeno and Scallion Scones (Lactose Free!)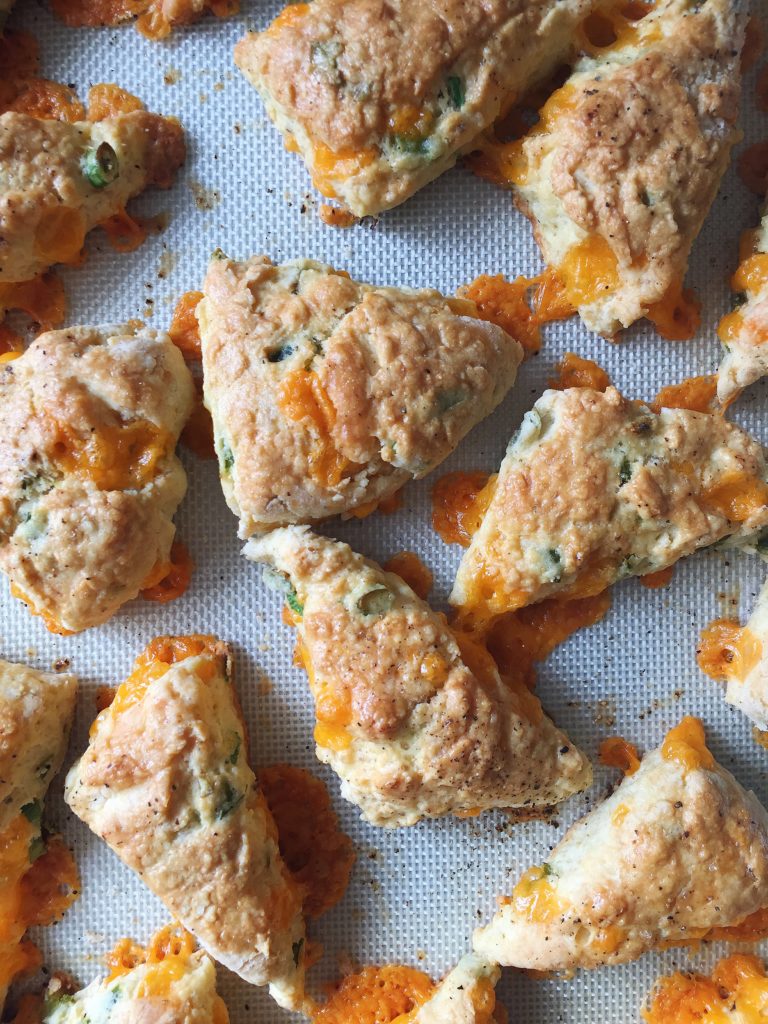 Serves:
8 medium or 16 small scones
2 cups all-purpose flour*
½ teaspoon salt
2 teaspoons baking powder
5 Tablespoons Earth Balance or vegan butter
2 jalapenos, diced small**
½ cup small diced extra sharp cheddar cheese
3 -4 green onions (scallions), sliced
¼ cup almond milk
2 large eggs, beaten
Heat oven to 400 degrees.
Heat a skillet over medium heat and sautee the diced jalapeno with a little butter or oil for a few minutes until softened. Set aside and let cool.
Combine the dry ingredients together in a big bowl. Cut in the butter to the dry mix until it looks dry and crumbly and no big chunks remain.
Mix the cooked jalapeno and cheddar chunks in a small bowl with 1 tablespoon of the flour until well coated. Add this mixture to the dry ingredients along with the scallions and stir to combine.
In a separate small bowl, combine the milk and beaten eggs.
Slowly add the milk and egg mixture to the flour mixture and stir until just combined. The dough will be a bit sticky, but try to form it into a rough ball.
Turn the dough out onto a well-floured surface and knead gently while forming into a large circle or square shape, with a thickness of about 1 inch. Cut into desired shape (I did squares, then divided in half to triangles), and place on a parchment or silpat lined cooking sheet.
Optional: Beat an egg and a teaspoon of water together until smooth, then brush the tops of the scones with the mixture. This will help the scones to brown.
Bake for 20-25 minutes or until brown (this will depend on the thickness of your scones).
Serve warm if possible!
* I substituted some Bob's Red Mill gluten free flour for all purpose flour. I suspect you could substitute all of it and while the texture may change it would still be delicious!
** I took out the jalapeno seeds but you could keep some for extra heat.
Recipe by
French Pressed Kitchen
at https://frenchpressedkitchen.com/cheddar-jalapeno-scallion-scones/