Pantry Clean Out Curry Stir Fry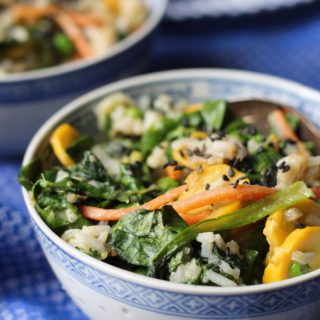 Author:
Andrea @ French Pressed Kitchen
1 teaspoon oil (for sauteeing)
2-3 cups of mixed vegetables (onions, garlic, carrot, squash, potatoes)
1-2 Tablespoons Thai curry paste*
1 cup rice or other grain (bulgur, wheatberries)
1 cup leafy greens (kale or spinach work great)
Coconut milk
Crushed peanuts
Chopped cashews
Scallions
Sesame seeds
Cilantro
Heat a pan over medium heat, then add the oil and vegetables. Sautee until softened.
Add in the curry paste and stir to combine evenly. It may be a little lumpy, but will even out later when you add the milk and rice.
Mix in the rice and coconut milk. A small amount of coconut milk works well for flavor, while more (~ 1 cup) will result in more of a soup-y stir fry). Heat everything until warm and evenly cooked.
Add the leafy greens at the end, stirring for just a minute to wilt slightly.
Serve in bowls and garnish with all the things!
* The green curry paste shown above is pretty spicy so I used about 1 big Tablespoon. I find that some other curry pastes require more for more quantity for added flavor.
Recipe by
French Pressed Kitchen
at https://frenchpressedkitchen.com/pantry-clean-out-curry-stir-fry/