No Bake Tahini Hemp Granola Bars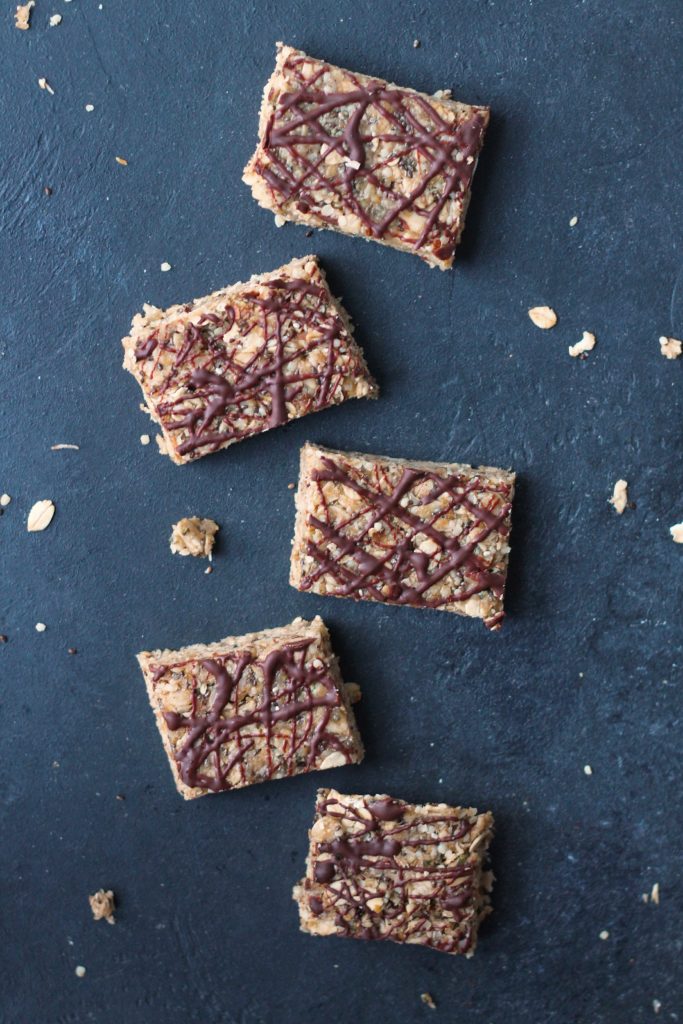 1 and ½ cups rolled oats
¼ cup hemp seeds
¼ cup finely shredded coconut
¼ cup mini chocolate chips
3 Tablespoons nuts (I used sliced almonds)
2 Tablespoons chia seeds
2 Tablespoons ground flax seeds
½ teaspoon cinnamon
¼ teaspoon salt
½ cup tahini
¼ cup maple syrup (1/3 cup for sweeter bars)
1 teaspoon coconut oil
1 teaspoon vanilla
Line a 9-inch square pan with parchment paper. In a large bowl combine the dry ingredients (oats, hemp seeds, coconut, nuts, chia seeds, flax seeds, cinnamon, salt and chocolate chips if using).
Heat a small saucepan over medium low heat and add in wet ingredients (maple syrup, tahini, coconut oil, and vanilla). Stir until everything is melted and combine.
Add the wet ingredients to the dry mixture and stir, stir, stir until coated. It may not seem like enough at first but will come together nicely.
Transfer the granola mix to the pan and spread evenly until the pan is filled. Press down firmly to pack in the bars - this will make sure that they stick together. I used the top of a lid to pat them down firmly. Once they are flat, you can drizzle them with melted chocolate*.
Place the pan in the fridge for 1-2 hours to firm up. Once firm, cut into even squares or thin bars. These should keep nicely in the fridge for a week or so - I like to wrap them individually and bring as snacks!
* You can melt chocolate using the double boiler method, or in 15-20 second spurts in the microwave, stirring in between sessions.

You could leave out any of the seeds if you don't have them on hand - the oats, maple, and tahini are the main ingredients! You can add other chopped nuts if you like in place of them.
Recipe by
French Pressed Kitchen
at https://frenchpressedkitchen.com/no-bake-tahini-hemp-granola-bars/